Boost your website with Premium Features
Rate my Post PRO includes extra features for a better rating system on your WordPress website, including advanced structured data selector and custom rating widgets.
Premium Features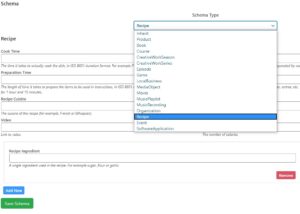 Advanced Schema Selector
Select schema type for each post directly in the post editor. Rate my Post PRO supports Product, Book, Course, CreativeWorkSeason, CreativeWorkSeries, Episode, Game, LocalBusiness, MediaObject, Movie, MusicPlaylist, MusicRecording, Organization, Recipe, SoftwareApplication and Event schema types with required as well as recommended fields. Proper schema markup is important because it allows search engines to understand your website.
Learn More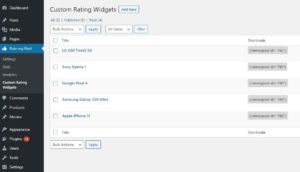 Custom Rating Widgets
Custom rating widgets can be inserted anywhere with the shortcode. You can insert multiple rating widgets in a single blog post or outside posts.  Custom rating widgets work independently of posts which gives you great flexibility. You can use them on archive pages, author pages and everywhere else. This feature is especially beneficial for those who are listing products, restaurants, events, recipes etc. because it allows adding a rating widget next to each item.
Learn More
Plus all the awesome-ness of Rate my Post Free!
Social Widget
After a positive rating, users are invited to follow you on social media or share your article.
Feedback Widget
After a negative rating, users are invited to leave feedback so you can improve your posts.
AMP Compatibility
Rate my Post is the first WordPress plugin to work on AMP pages. It's compatible with AMP and AMP for WP plugins.
Security
Prevent double votes via cookies, IP or only allow logged-in users to vote.
Stats
See ratings, vote count and feedback count for each post in the stats section.
Analytics
See detail about each rating, including how much time the visitor spent on page before submitting the rating.
Customization
Customize the plugin with ease in the settings.
Permissions
You decide who on your team can manage ratings.
Top Rated Posts
Display top rated posts with the top rated posts widget.
Pricing
Personal
1 website
$ 49 /yr
Includes all PRO features + unlimited updates and support per year for 1 website.
Freelancer
5 websites
$ 149 /yr
Includes all PRO features + unlimited updates and support per year for 5 websites.
Frequently Asked Questions
What exactly is Rate my Post PRO?
Rate my Post PRO is a premium version of Rate my Post plugin. It's a standalone plugin which means that it doesn't require free version to be installed and includes additional features mentioned above.
How do license keys work?
License keys are used to enable plugin updates. After purchasing a Rate my Post PRO license, you will receive a unique license key (alongside your Rate my Post PRO plugin download link). This key can be activated from your WordPress dashboard's plugin page.
Do I need to renew my license?
Yes. license key is valid for one year and after a year you should buy a new license key. If you don't buy a new license key, the plugin will keep functioning but you will no longer receive updates or support. You will be notified before your license key expires.
What payment methods do you accept?
At the moment only payments via PayPal are accepted.
What kind of support do you offer?
With a valid license key you are eligible for email support. Note that support does NOT include website customizations, plugin installation or any other web development work. It is intended for resolving issues with plugin's intended functionality.
Do you offer refunds?
Yes. I want you to be happy with your purchase, and will try to make that happen. But, if for any reason you're not completely happy, I do offer a 30 day money back guarantee. To do so, please get in touch.
How to upgrade to PRO version? Will I lose my data?
No, you will not lose your data. To upgrade to PRO version first deactivate the free version and then install and activate the PRO version. After that it's safe to delete the Free version.
---
---