Note: Rate my Post PRO has been released. Buy Rate my Post PRO.
Today, I released Rate my Post 3.2.0 which I've been developing for the last couple of months. The development took a bit longer than usually because I was at the same time also working on Rate my Post Pro. Rate my Post 3.2.0 is made so that the transition from the free version will be smooth for those who decide to upgrade to the premium version. As many of you are asking me when the PRO version will be released and what it will offer, I decided to share some screenshots from the development version of Rate my Post PRO.
Select schema type for each post in the post editor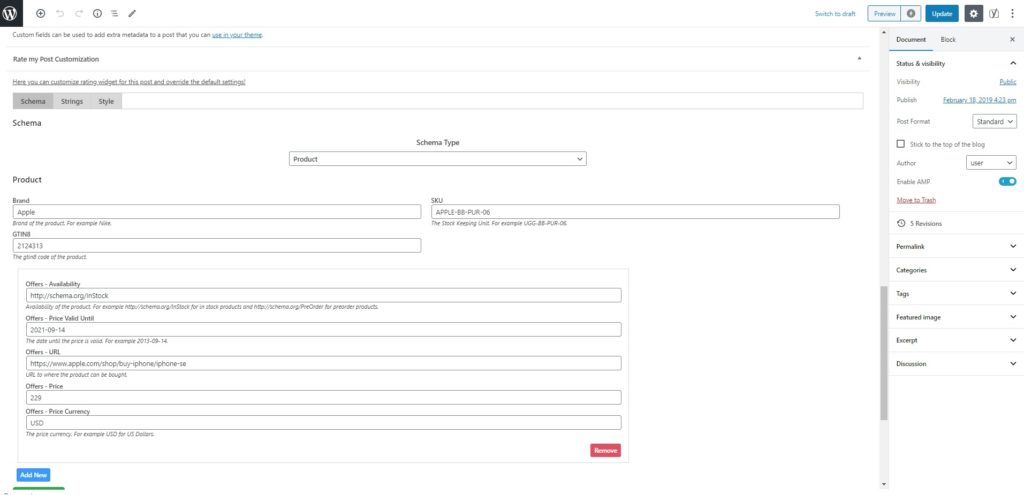 Rate my Post PRO will allow you to select whichever Schema type directly in the post editor. This means that you can select different schema types for different posts. All schema types support required as well as optional schema fields according to the Google guidelines. No more warnings in Google structured data testing tool 🙂
---
More schema types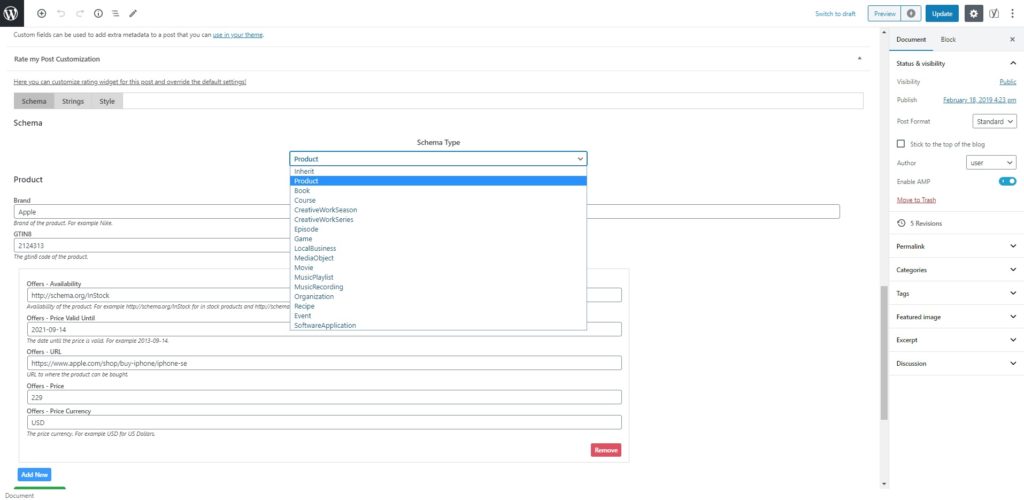 Google displays review rich snippets for the following schema types: Product, Book, Course, CreativeWorkSeason, CreativeWorkSeries, Episode, Game, LocalBusiness, MediaObject, Movie, MusicPlaylist, MusicRecording, Organization, Recipe, HowTo, SoftwareApplication and Event. Rate my Post PRO supports all these schema types, except HowTo for which I'm developing a standalone plugin that will integrate with Rate my Post PRO.
---
Customize rating widgets for each post in the post editor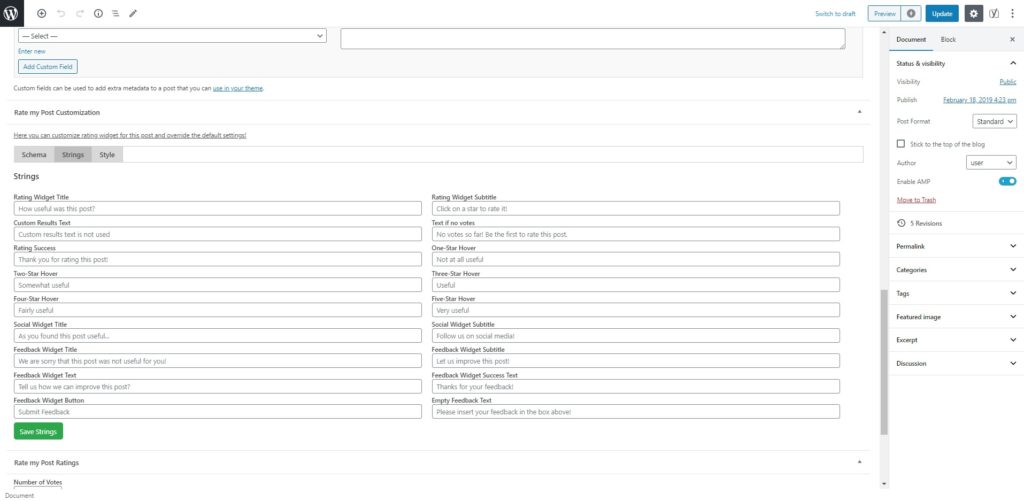 While rating widgets can also be customized in the free version, Rate my Post Pro allows you to customize rating widget for each post. All strings can be post-specific.
Add class to rating widget in the post editor
---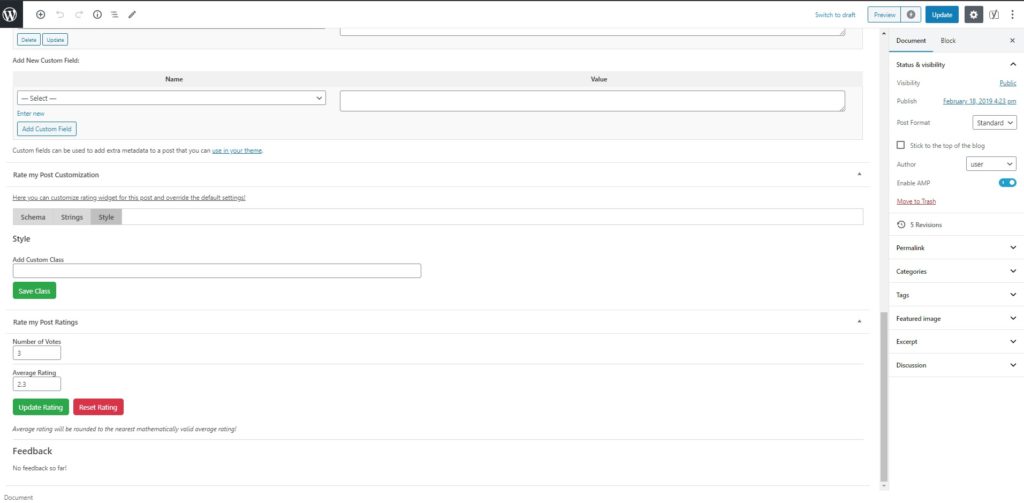 Rate my Post PRO has an option to add a custom class to widgets in the post editor. Custom class allows you to apply different style to these widgets.
---
Custom Rating Widgets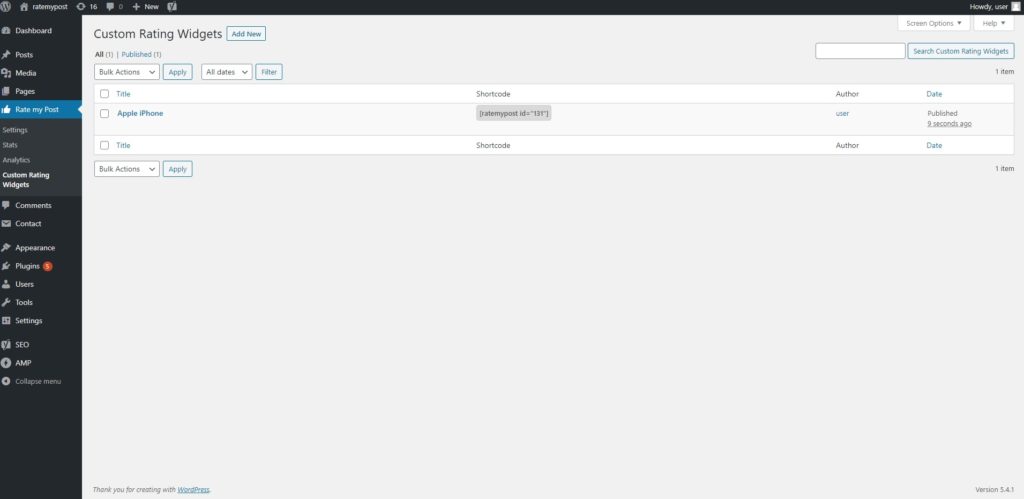 Rate my Post PRO supports custom rating widgets which can be used independently of posts. You can use them on archive pages (categories, tags, front page etc.), author pages etc. Furthermore, custom rating widgets allow you to have multiple rating widgets in a single post. For example, if you are reviewing 10 products in a single blog post, you can create a rating widget for each of these products.
---
Custom Rating Widgets can be customized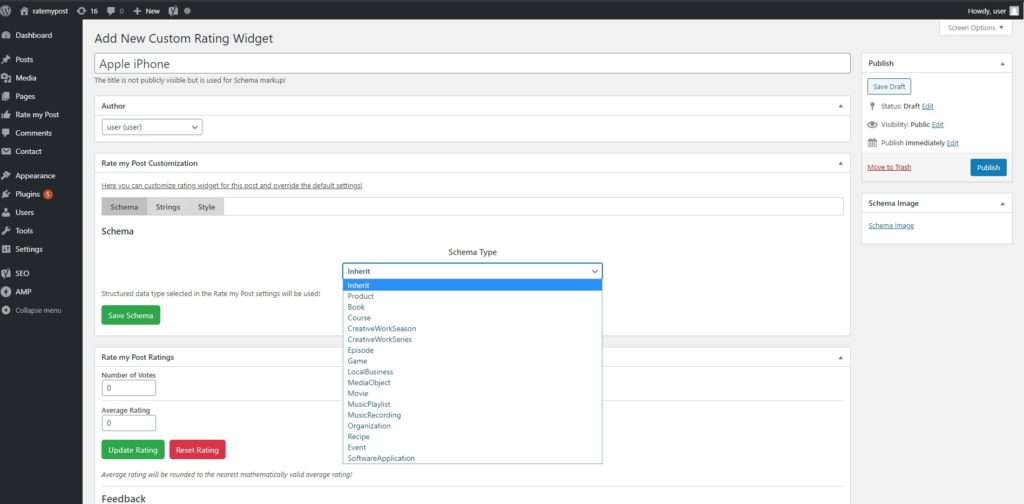 Each custom rating widget allows you to select schema type, modify strings and add a custom class.
---
---